News
Awards and Concerts
Shakira surprised everyone at the Latin Grammy Awards when she performed a ballad, 'Que Me Quedes Tu' instead of 'Te Aviso, Te Anuncio,' She took home best video for 'Whenever, Wherever / Suerte.' Most importantly, she has recently announced tour dates! The tour will start November 8th, and she will travel to 14 cities.
Music Teacher says Shakira Used to Sing Like a Goat
Shakira's former music teacher used to think she sounded like a goat when she sang.She is now being hailed as the new Britney Spears.But she admits she was a far cry from a pop star as a teenager."I was a fat teenager. when I look at old pictures, all I can see are these chubby cheeks," Shakira told the Sunday Mirror."My hair was deep black, I wore black clothes and I always wore a crucifix. I was a Goth."
The Colombian-born singer started entering singing contests as a youngster when she was turned down for the school choir because the teacher said she sounded like a goat.Shakira is playing down her rivalry with Britney.She said: "People say Britney and I are alike because we're both blonde, petite and we started in this business very young."But we're two very different artists. I don't hate or despise her like people make out."
(CREDIT:ananova.com)
DOUBLE PLATINUM!


The New Album
Laundry Service
Featuring The Single, "Whenever, Wherever"
Is In Stores NOW and has been certified DOUBLE PLATINUM!

Shakira's new video for "Whenever, Wherever" has been living large in the TRL Countdown!

Help Shakira get it to #1 and vote for it!!! Here's all you have to do: Call 1-800-DIAL-MTV (1-800-342-5688) between 3-3:30PM (EST), 2-2:30PM (Central), 1-1:30PM (Mountain), 12noon-12:30PM (PST) and request "Whenever, Wherever" / Shakira. Keep calling until you get through! You can also Vote Online while you're calling,by clicking the link below: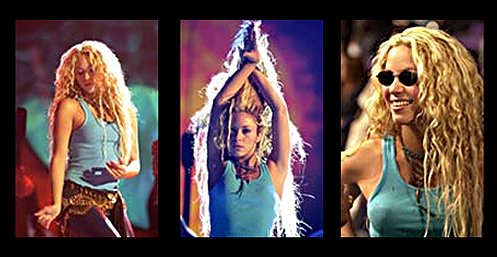 Who Does Shakira Think She Is?

A global superstar destined to crack America with her first English-language album, Laundry Service? Or a brainy Freudian in a Britney wig? The 24-year-old Colombian spitfire clarifies all when she answers the question . . .

By Rob Tannenbaum

What does your drawing tell us about you?
I drew a woman with brains, heart and uterus, surrounded by a Colombian flag. Her whole body is in flames. I think I am a woman who is passionate and stubborn, but rational and analytical. Are you getting a shrink to analyze my drawing?

Just Dr. Blender, and hes both scared and aroused. What happened to Ripoll, your last name, anyway?
Its here, running through my veins. I use my first name just to make it easier for everybody to remember.

What are you more scared of: spiders, heights or death?
The third one. I consider myself necrophobic.

What are the symptoms?
You are a shrink. I always tried not to touch that subject, because it would really give me existential anxiety. Death is not only related to the physical death of the body, its also related to the death of relationships or feelings. Every day, I feel a little bit older, a little less alive, more alive with the possibility of being less alive, closer to death [laughs].

The last pop star we heard use the phrase existential anxiety was Morrissey.
Why am I telling you all these things? Im not supposed to say all the things I feel. Just the things that sell records. Thats what they tell me, anyway.

What is your favorite curse word?
I would love to use the F word in English, but as Ive been educated under Catholic terms and principles, Im unable. So I just say freakin this and this freakin thing.

Were sure God knows what freakin means. Whats the worst mistake youve ever made?
I wouldnt say it in an interview.

Well assume its terrifically awful, then. Whats your favorite legal drug?
Diet Pepsi. Oops, I cannot say that! [Shakira has an endorsement deal with Pepsi-Cola.] You think theyre going to cancel my contract?

Depends on how many records you sell. Whom do people say you look like?
Now that Ive dyed my hair, they ask me if Im Britney Spears. In New York, twice a day: Are you Britney Spears? Can you give me an autograph? Im like, Of course, but Im not Britney Spears.

Who are your musical peers?
To tell you the truth, I dont feel that Im artistically similar to anybody right now. I have a unique musical proposal.

Is sex overrated or underrated?
I am certainly very identified with Freuds pensiemento, his thought that life starts with sexuality. I dont know how you say it in English, but its like le aguja de nuestra brujula [literally, the needle of our compass]. Its overrated, but underestimated at the same time. We treat it like something cheap, we talk too much about it, we dont give sex the sacred place it deserves. A woman doesnt mop the floor in her wedding dress, right?

Only in Madonna videos. What do men not understand about women?
Our hysterical side. Our tense, demanding side. Were not only controlled by our emotions, our heart, our brain, but also by our hormones sometimes. Just give us a lot of attention. Women are so complicated. I know myself: Im the type of woman that if I have the attention every second of my life, Im an angel.

And if you dont get the attention?
Fasten your seat belts.

(CREDIT:blender.com)